Regular price
Sale price
$8.50 USD
Unit price
per
Sale
Sold out
Our handcrafted Neem Soap is a masterpiece of high-quality, organic ingredients, ideal for all skin-types, even sensitive ones. Filled with fatty-acids, anti-bacterial ingredients, these bars are the perfect all-in-one solution: for face, body, men, women, teens - you name it!
You will receive ONE bar of soap that weighs approximately 4 oz. Handcrafted Soaps will continue to evaporate water and lose weight. This makes a finer, longer lasting bar.
How to use: Work soap into a nice lather using your hands or wash cloth. Gently massage unto skin in circular motions for 30 seconds and rinse when finished.
Ingredients: Distilled Water, Coconut Oil, Neem Powder, Sweet Almond Oil, Vitamin E Oil & Tea Tree Essential Oil.
Shipping

Our team will ship your order within 3 business days. The time it takes to receive your order depends on the shipping method chosen at checkout.
Return policy

Unfortunately, we do not accept returns as we sell personal products. Unopened products are also not refunded as it has been out of our supervision.

All sales are final unless an error occurred on the behalf of DeLaMà Naturals LLC.

Thank You for understanding.
View full details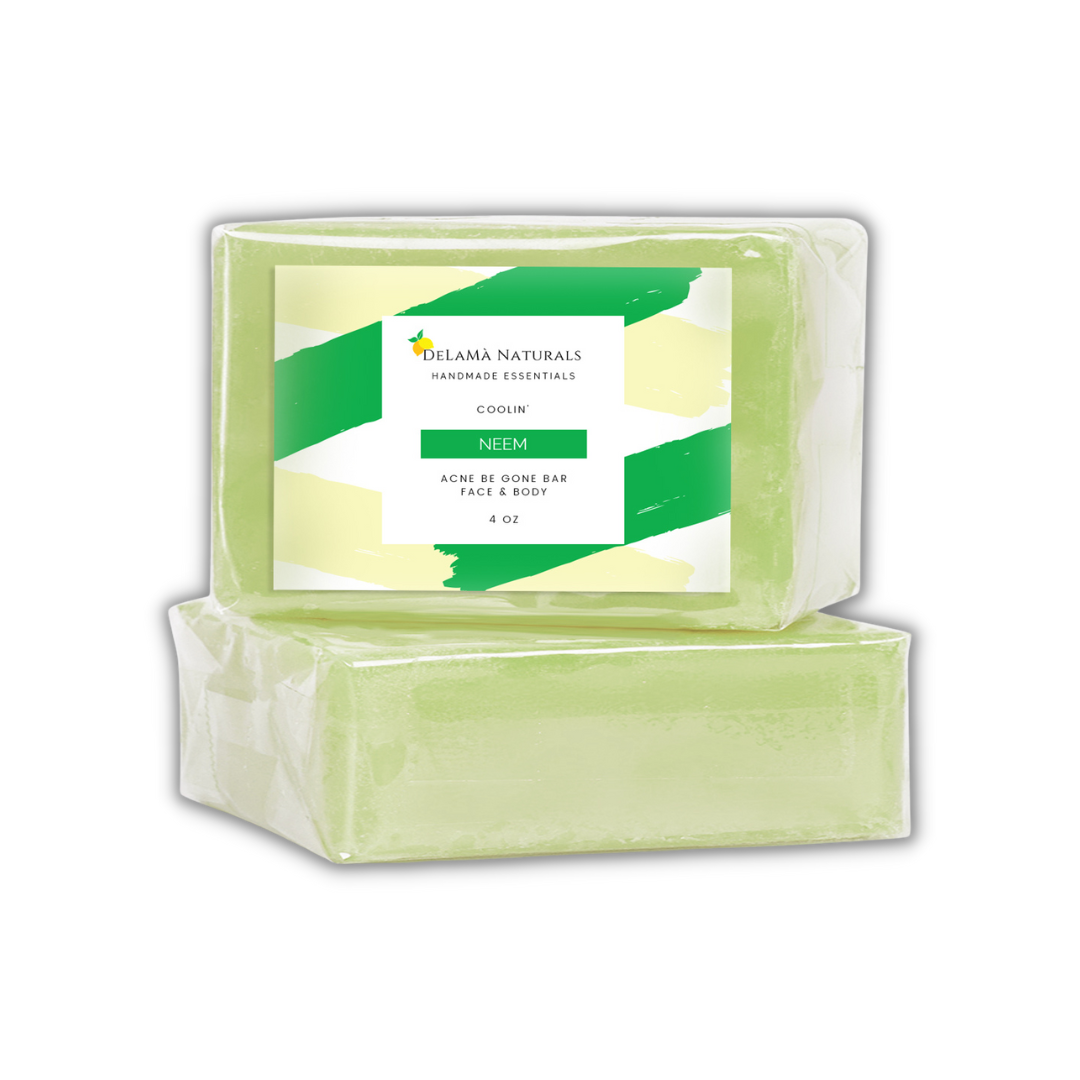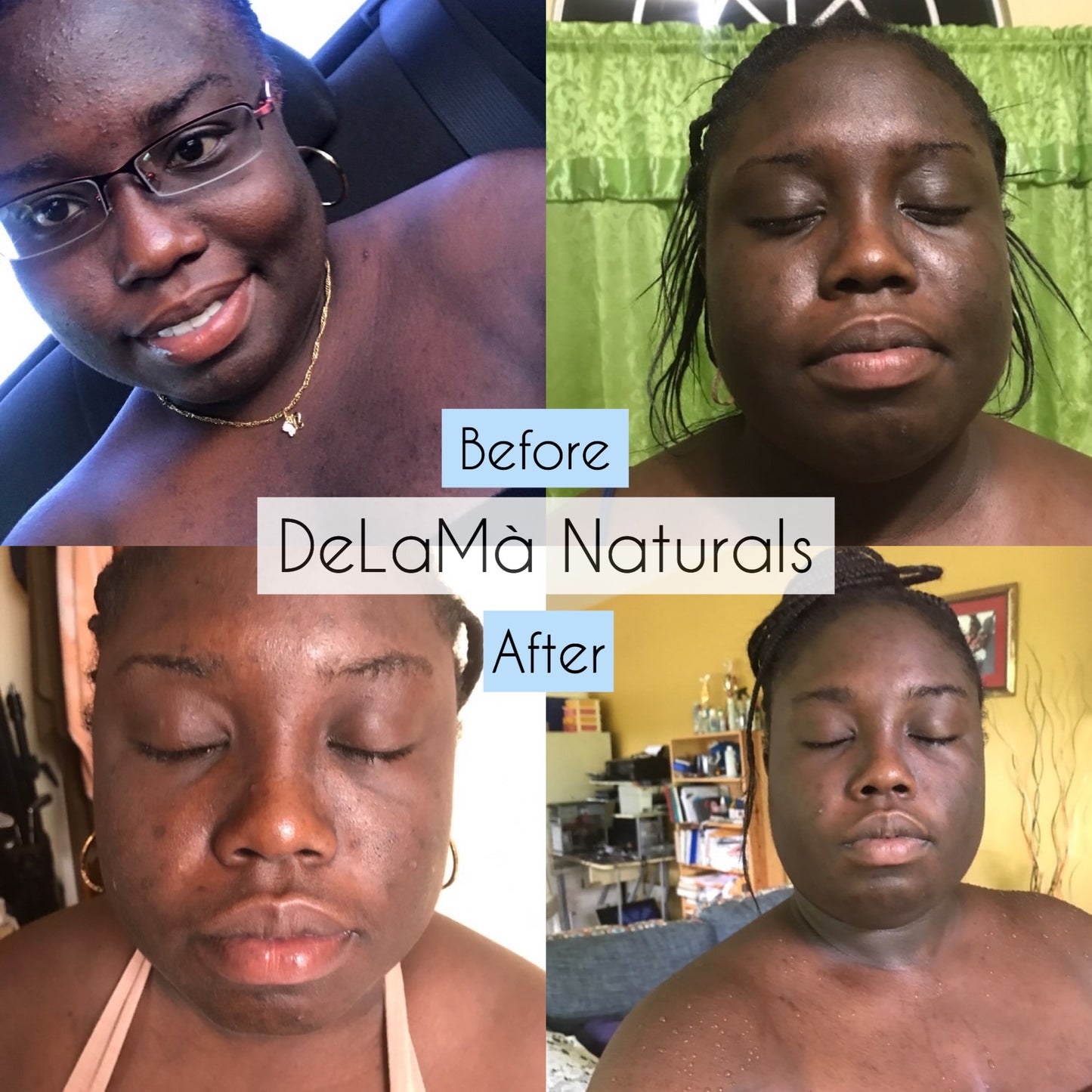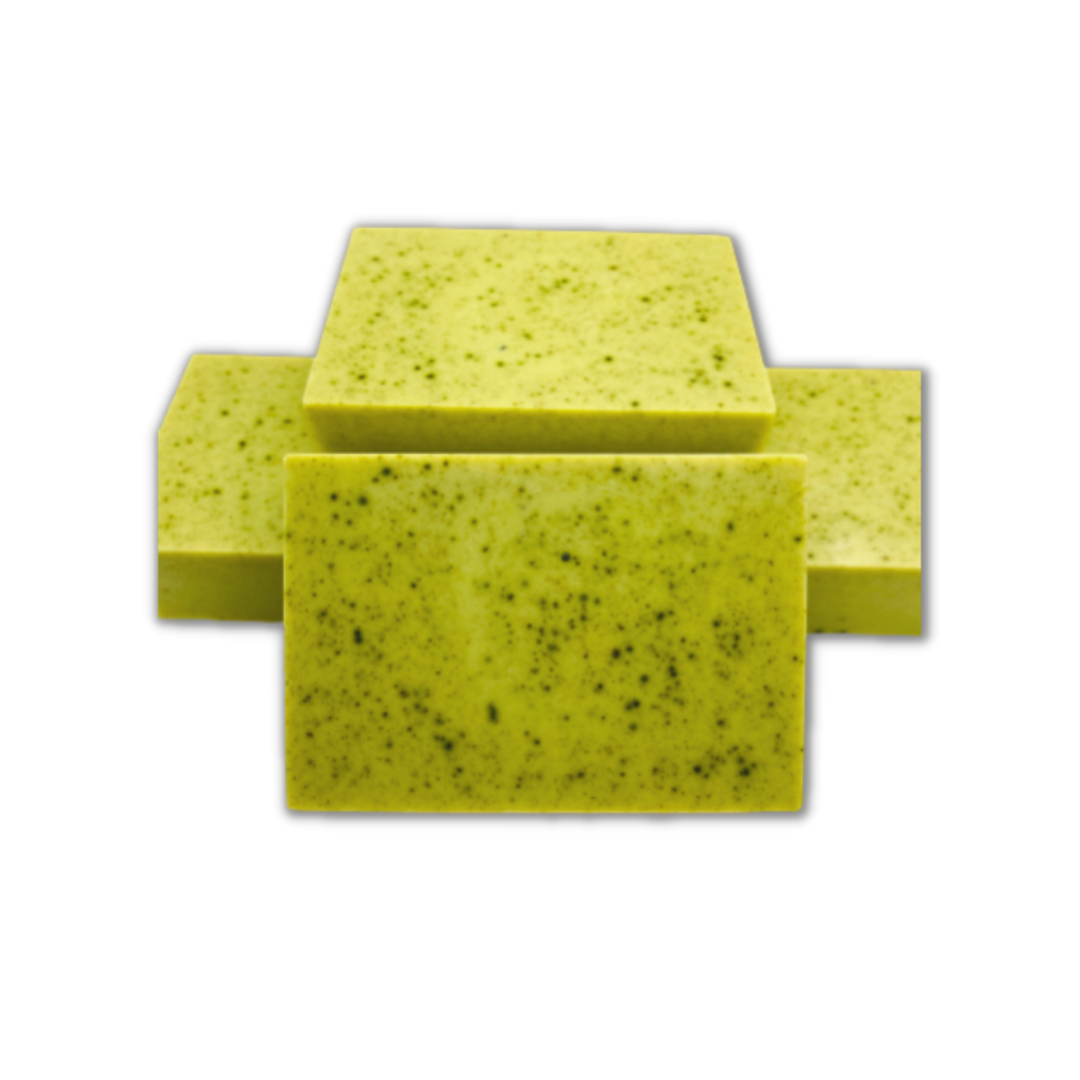 Top tier Neem
The neem soap is by far the best. It leaves your face refreshed in addition to fighting off acne. I use the soap twice a day in the morning and the evening. I use the soap on my face and my back because I get alot of acne on my back as well. The soap really works, nothing happens in a day but with consistency the neem soap would help you love your skin again!. Highly recommended.
Goodbye Hormonal Acne
This soap is amazing! 10/10 recommend! I alternate this with the turmeric soap and use alongside the facial beauty elixir and my skin has thanked me for it! No more hormonal acne flair ups.
Give it a try! You will not regret it!
Amazing product
I suffered from prone acne, skin discoloration and oily skin.
Within a week of using this product changes to my skin was very mind blowing. I couldn't believe that it was working that fast. My skin was less oily no one could have tell when i used the neem bar because my skin was always smooth and vibrant after I started the treatment. They just knew that whatever product I was using it was working.
My acne was gone not even when I was menstruating it appeared thank God. I only used this bar for a month. I also purchased the turmeric bar to get rid of my marks and even out my skin tone but it seemed as if this bar already paved the way for the turmeric bar.
I recommend this product 💯 percent. Stay tuned for my next review on the turmeric bar. I wish I could have uploaded my before and after pictures here but check out her Instagram page🥰🥰🥰🥰
Surpassed my Expectations‼️❤️
I really was not sure what to expect when I added this product to my cart but I did anyway because Delama Naturals products WORK. I don't have acne but this soap did wonders. After using the Neem Soap my face was smooth with a popping glow. ✨✨✨I will definitely purchase again. I fully endorse!!! ☑️ 💛📝
Healthy skin is always in!